LG CELL PHONE LG C2330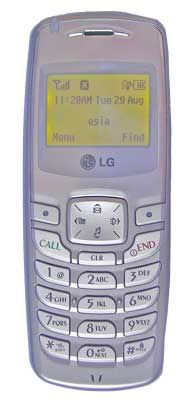 Vendor : LG
Announcement Date : 28 July 2006
Dimension : 103 x 42 x 15 mm
Weight : 65,3 g
Antenna : Internal
Operating Band : CDMA(800)
Network Data Support : None (Tidak Ada)
Primary Screen Size : 5 lines (3 lines are usable)
Primary Screen Type : STN
Primary Screen Color : Monochrome

REVIEW
Reliance Infocomm has introduced the LG 2330 CDMA mobile phone, which features Long Messaging Service (LMS). LMS allows a user to send text messages up to 480 characters long against the standard 160 characters. Touted as the lightest, the phone weighs 65 grams The phone can store up to six hundred contacts in the address book and is also capable of sending and receiving SMS and LMS in Hindi. The device comes installed with 22 polyphonic ring-tones, including three downloadable ones. The phone also features an airplane mode that allows users to switch on the phone to use features like games, scheduler and memo while keeping the radio frequency off, when on board an airplane. "The black and white colored handset is available in the open market and can be activated with the help of a get started kit. This gives an additional option to the discerning Reliance subscriber," said Praveen Pasricha, president, sales and marketing, Reliance Infocomm.

---